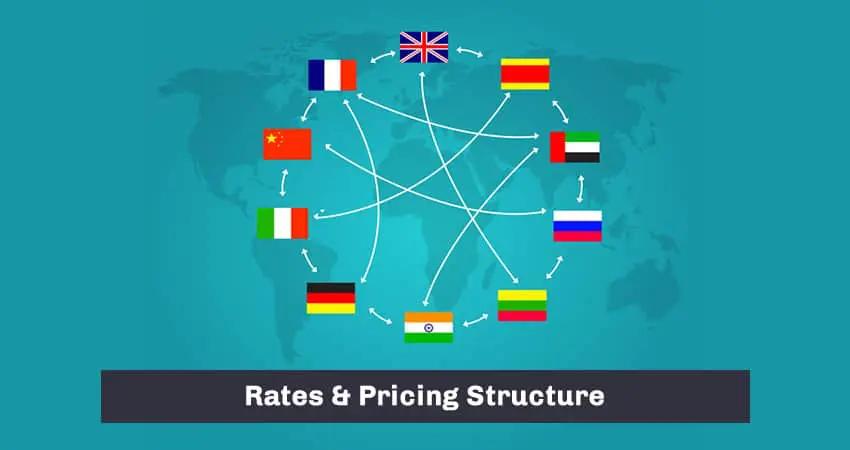 We provide honest and transparent translation services rates and pricing to all our customers with highly customisable price packages for each of our clients.
Translation Pricing Plans and Rates
We offer a range of translation pricing plans that vary greatly depending on the requirements of you, the client. Our professional translators support the needs of many businesses both large and small and will do our best to always accommodate your budget.
We always build long-term working relationships with all our clients and so aim to go above and beyond in all cases, to create a pricing plan that you are comfortable with.
Translation Pricing Factors
We require for the full details of the translation work requirements to be provided to provide an accurate quotation. Our translation rates we offer usually range from between $0.06 and $0.035 per word.
Price factors considered in the quotation includes the required turnaround time, the total volume of words, languages, the technicalities of the text, types of documents and certification of documents translation.
If you can send us across your exact needs, then we would be happy to provide you with a free 100% no-obligation quotation. Simply use the form located on this page.
Interpreting and Transcription Rates
Similar to our translation service, the exact quote we will give you will depend on a number of factors. This includes things like which language pairs need interpreting and transcribing and what the topic of conversation is on. However, for a rough guideline, our rates usually start from $50 and go up to $150 per hour per interpreter. If what you require is a simultaneous translation service, then you can expect quotes in the region of $100 and $250 per hour.
Offering a fixed hourly rate is the easiest way for you to calculate an accurate quote. Do note, this pricing structure comes with two main points. First off, if you go over the scheduled time, then you will then be subject to the same fixed hourly rate, even if you do not meet another whole hour. Secondly, any work that is performed after 5pm each day is charged with a 20% mark-up.
Additional Charges & Fees
If you require any additional services, then our customer services team will make you aware of any extra charges before you accept the quote. However, here are 2 additional charges you should be aware of. First off, if you require overnight delivery or an urgent delivery, then there will be a price mark up of between 10% and 25%.
Waiver of Service Fees & Special Discounts
To keep costs down to a minimum and to ensure you stay within your budget, we are happy to offer the following to all of our clients.
No hand-delivery fees
No administration fees
A 10% discount on any project that exceeds 10,000 words
A 20% discount on any project that exceeds 20,000 words
Accepted Mode of Payment
Please be advised that all prices listed above are in Singapore Dollars, and this is the required currency for payments to be made in. If you are locally based, then you can make payments quick and easily by either bank transfer or cheque. If you are based overseas, then we offer you the following options:
Bank Transfer
Credit Card
Paypal
Cheque
Telegraphic Transfer
We are always looking to help more clients with their translation and transcribing needs, so look forward to hearing about your requirements. Simply get in contact today to request a free no-obligation quotation.