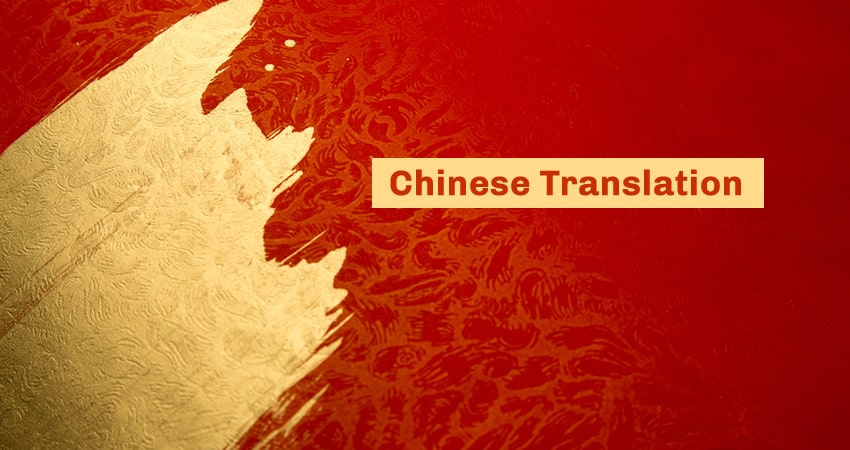 In the recent years, China's GDP has grown tremendously through the increase in trade flows with other nations. As such, increasing numbers of countries from around the world are doing business and trade deals with China, creating a greater need than ever for succinct and timely communications in multiple languages.
It is expected that with this continued increase in business there will be an equal increase in demand for Chinese translation services through the growing need from Chinese to English speakers and vice versa. It is important to ensure that Chinese translators are native speakers, with a strong understanding of the nuances of language, to ensure the best possible business outcomes.
Traditional Chinese or Simplified Chinese?
If you're looking for a Chinese translation service, it's best to start with what form of written language you require, Traditional Chinese or Simplified Chinese. Each of these written forms has thousands of distinctive characters called ideographs. These characters consist of two elements; a significant, which indicates the meaning of a word, and a phonetic, which indicates the sound.
Once you have established the form of written Chinese you need, in a translation service, the next thing to consider is the tone of the subject matter and the intended target audience for your piece. Is your translation for business or personal? Does the writing need to be conversational or formal?
Thinking through these questions allows for the best and most appropriate translation. Taking time to be clear on your outcomes will ensure your translation is exactly what you require.
Choosing the Right Chinese Translation Company
Any quick Google search will show the plethora of translation services now available, due to the increasing popularity of the field. While this is expected, it does make choosing the right translation service a potential minefield, so here are our tips on the best translation service to use.
In any kind of translation service, accuracy and authenticity are key, so look for quality. Are there quality controls factored into the service fee? Is the company professional to deal with? Do they have a variety of services to best suit your needs? Do they understand what type of dialect translation is required for which Chinese audience? Do they understand your turnaround times, and localisations?
Does the business have a reputation for accuracy? Is the translator a native speaker who understands the subtleties and nuances of language translations? Importantly, is the work authentic? Does the tone of the translation sound like that of a native speaker? For example, if you have an important business document, the tone should not be familiar and conversational, it should be clear and matter of fact. Finally, it is expected that a document translation service will be handled with the greatest confidentiality, not just at the initial briefing, but through the entire process.
Remember, you don't get a second chance to make a first impression, so contact us today!
Understanding the Chinese Language
Of the 980 native speakers in China there are many dialects spoken and many more throughout the broader Chinese-speaking population found in Hong Kong, and Taiwan. There are substantial numbers of Chinese speakers found throughout the whole of southeast Asia, including in Singapore, Indonesia, Malaysia, and Thailand.
While it is impossible to understand how many dialects are spoken, most can be classified into one of seven dialects which are Mandarin (Putonghua), Cantonese (Yue), Hakka (Keija), Gan, Min, Wu and Xiang.
Nearly half a century ago the government of the People's Republic of China made the decision to simplify the written Chinese language to make it easier for the general population to become literate. At this point two distinct versions of written Chinese came into being – Traditional and Simplified Chinese. These two written dialects are easy for the native speaker to tell apart, but more difficult for those less familiar with the language.
The simplified writing system differs in two ways from the traditional writing system. Firstly, there is a reduction in the number of strokes per character and secondly, there is a reduction in the number of commonly used characters.
Traditional Chinese uses characters that have been in use for hundreds of years and are still retained in Taiwan, Hong Kong, and Malaysia. There is much debate about the pros and cons of Traditional versus Simplified Chinese, and many aesthetes favour the look of the traditional characters which has resulted in their use in art, signage, advertising, and websites.
Cantonese is the language of Chinese settlements in North America and many other places around the world, although the dialect is best known in the United States. Mandarin is the official language of the People's Republic of China and Taiwan and one of the official languages of Singapore. Of these two dialects, Traditional Chinese is the most widespread. Chinese-speaking communities are found in many other parts of the world, especially in Europe, North and South America and the Hawaiian Islands, and with the variety of dialects and written forms, it's easy to see why expertise is required in translation.