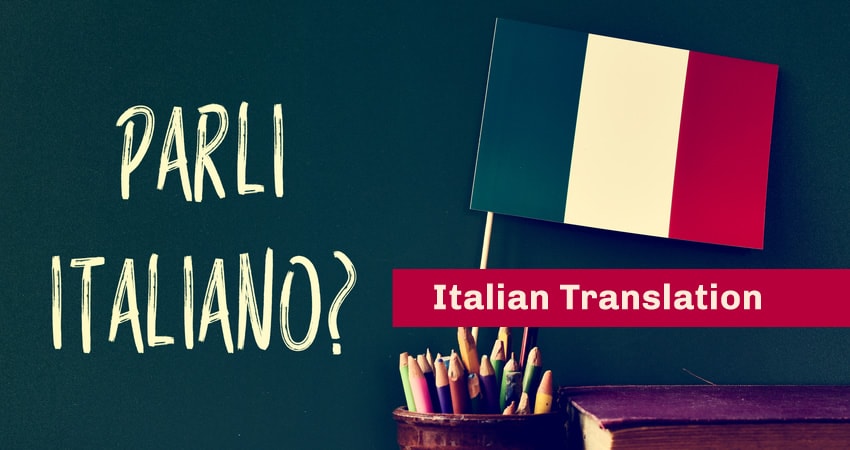 We're proud to have helped plenty of businesses and individuals with their Italian language translation needs, and if you're looking for reliable Italian translation, our team of linguists can offer the highest-quality service to a tight deadline at the most competitive prices around.
No matter how big or small your job, we've helped a huge number of clients, from translation major marketing campaigns for global corporations to translating legal documents and medical forms. Our team of linguists are fluent native speakers and are ready to turn over your copy as quickly as possible. Get in touch with us today to find out how we can help you or your business flourish. If you contact us today, you'll receive a free, no-obligation quote.
Italian Translation Services
From document translation, marketing materials, legal forms, medical information, menus and internal business communications, we've helped a huge range of clients with an even wider range of materials. Our Italian language translators are all highly qualified native speakers, and our editorial team ensure that you'll benefit from fast turnaround speeds and no errors.
Some examples of our translation services include:
Italian Documents Translation (Marriage certificates, migration documents, insurance forms and more)
Full Italian Websites Translation
Italian Video/Subtitle Translation
Italian Marketing Material Translation
Italian Medical Forms Translation
And plenty more.
Get in touch today to find out how much you could save by choosing Translation Services SG. You'll receive a free quote, so you won't be left guessing how much you'll need to pay.
Reliable and Affordable Italian Translators
We only hire the very best, fully qualified native speakers to undertake our translation work. Combined with our rigorous editorial processes, you're guaranteed the highest possible standard of translation available.
About the Italian Language
Italian is one of Europe's major languages and the 18th most widely spoken language in the world with 87 million speakers globally. As a romance language descended from Latin, Italian has many similarities with French and Spanish, although is not quite as widely spoken around the world.
Unlike some other regions, Italy is not particularly high in the global scale of English proficiency, with many speakers not possessing second languages. This makes Italian translation crucial for companies looking to break into the Italian market.
Our team of dedicated linguists are all fully qualified native speakers, ensuring that any native ear for tone is not lost in our translation work and your copy will sound fresh, fluid and natural. Get in touch with us today for a free quote and to find out more.
Professional Italian Document Translation
Whether you need a handful of documents for personal use, or a complete marketing campaign translated for your business, we offer the most affordable and highest quality Italian translation service in Singapore. We've worked with a huge range of clients and materials and our team are ready to take on any job you require.
Contact us today to find out more about how we can assist you with any translation you require. By getting in touch today, we'll provide you with a completely free, no obligation quote – we're confident in our competitive prices and the quality of our work, and we're sure you will be too.